303 Stainless Steel Identification Test Kit

– TK14

303 Stainless Steel


Identification Test Kit - TK14


This test kit allows you to easily identify 303 stainless steel: if you have a 303 stainless steel the test will give a clear black result.
You can perform about 30 tests with this test kit. One test takes only two minutes.
Usage
You can easily and quickly test whether your stainless steel is type 303 or an other type such as 304: when your stainless steel is type 303, the test gives a clear black discolouration. This discolouration is caused by the presence of sulphur in 303 stainless steel. With for example 304 (or 316), the test remains white because it does not contain sulphur.
Background of 303 stainless steel

303 stainless steel is very suitable for machining due to the addition of the element sulphur. However, sulphur does have an adverse effect on formability, weldability and corrosion resistance. 304 (and 316) stainless steel contains no sulphur. As a result, 304 stainless steel has good corrosion resistance and is easy to weld.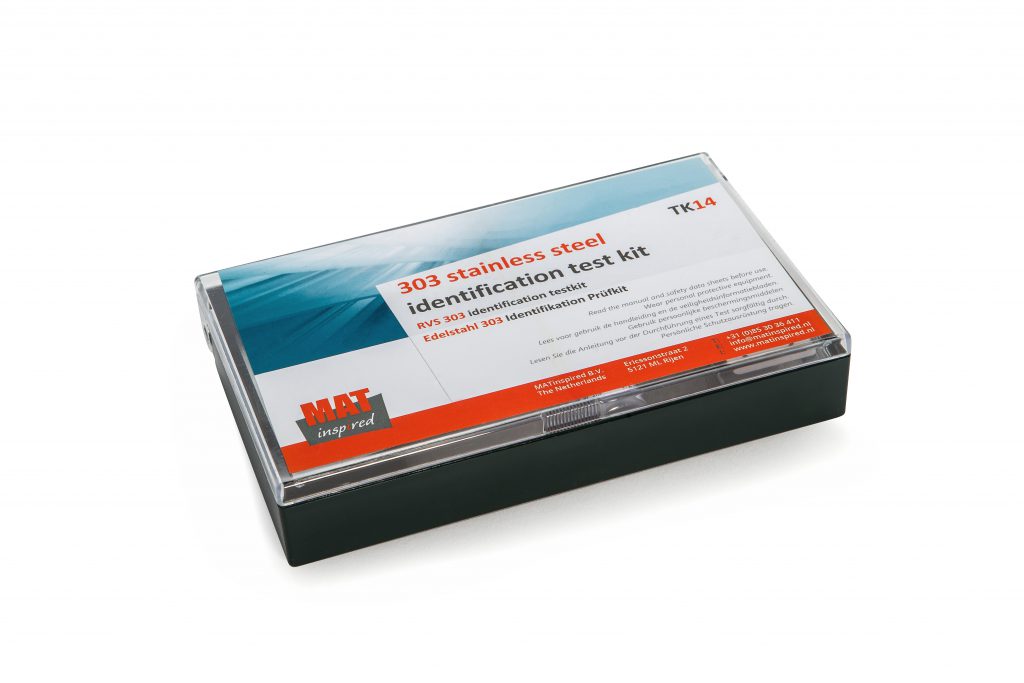 Ordering is only possible for companies.
You will receive our quotation by e-mail within one or two working days. After your acceptance of our quotation, we will send the test kit as fast as possible.
Disclaimer
Although this product has been compiled with the utmost care, MATinspired B.V. cannot be held liable for damage that results from the use of or contact with the product. This measurement method is only an indication, and MATinspired B.V. is not responsible for the test results.