RVS 304 316 identification Test Kit

– TK05
RVS 304 316


Identification Test Kit -

TK05
for stainless steel material type 304 and type 316

With this test kit you can test whether your stainless steel material is type 304 or type 316.
This test kit contains 20 test swabs, test liquid, an electrode, 304 and 316 test material and a manual.
The test swabs have a shelf life of 3 months. Refill sets for 20 tests are additionally available.
Ordering is only possible for companies.
You will receive our quotation by e-mail within one or two working days. If you agree with this quotation, we will send you the test kit as soon as possible.
Usage
You can perform the test directly on any stainless steel product. First, place the test swab on the metal. Then, moisten the test swab with the supplied test liquid. Subsequently, make contact with the electrode for about half a minute. (The test kit uses a safe low battery voltage.) This causes a discoloration of the test swab.
In the case of a 304 metal, the test swab will turn light yellow/brown.
In the case of a 316 metal, the test swab will turn distinct pink/purple.
This test kit is also known as 'moly test' or 'molybdenum test' since it detects molybdenum. Since molybdenum is present in 316, this leads to the pink/purple colour of the test swab.
Performing the test on a piece of metal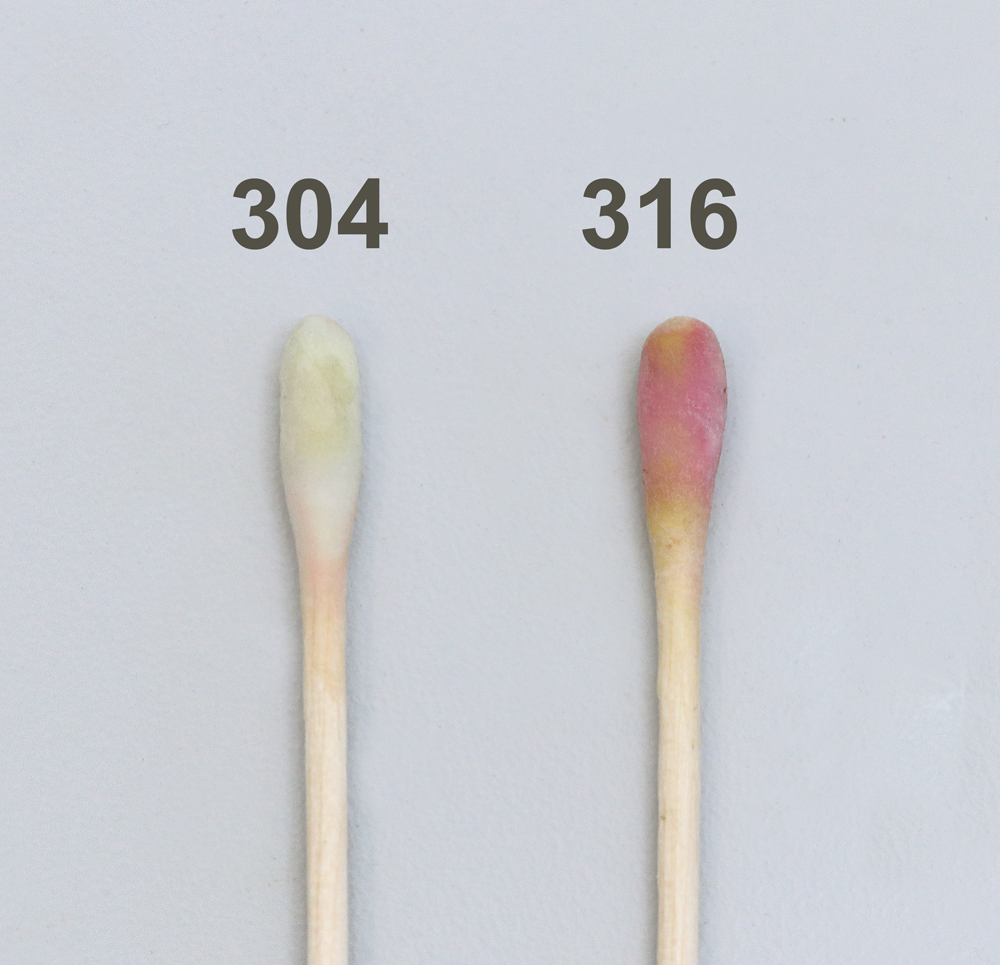 Example of test swab discolouration after testing on 304 and a 316 metal.
Disclaimer
Although this product has been compiled with the utmost care, MATinspired B.V. cannot be held liable for damage that results from the use of or contact with the product. We cannot guarantee that this solution will reduce/remove/neutralize all chromium-6 from the residues.